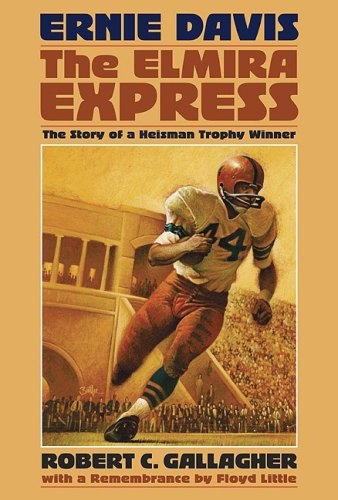 As a sophomore, Ernie Davis led an undefeated Syracuse football team to its first National Championship and to victory in the Cotton Bowl. His brilliant performances continued throughout the remainder of his college years. He became a consensus All-American, surpassing the legendary Jim Brown s rushing records.
In 1961, Davis was awarded the Heisman Trophy, the annual award given to the best collegiate football player in the country. It was the first time in history that this prestigious award was presented to an African American.
The number-one draft pick in the 1962 NFL draft, he signed a record rookie contract with the Cleveland Browns and seemed destined for professional stardom. However, he never played a down in the NFL. That summer, he was diagnosed with leukemia. His lifelong dream would remain unfulfilled when he succumbed to the disease less than a year later.
In battling his illness, Ernie continued to show the dignity and heart of a champion, becoming an inspiration to the nation and moving President John F. Kennedy to eulogize him as "an outstanding man of great character"p>
Ernie Davis almost certainly would have made his mark in professional football. But it was not his football achievements alone that made his life unforgettable. Instead, it was his unique personal qualities that are most vividly remembered.
En vous inscrivant à Livraddict, vous pourrez partager vos chroniques de blog dans cette zone ! M'inscrire !