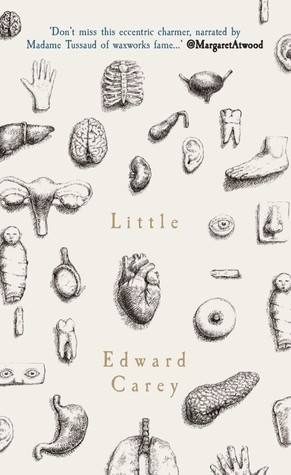 "There is a space between life and death: it's called waxworks"
The wry, macabre, unforgettable tale of an ambitious orphan in Revolutionary Paris, befriended by royalty and radicals alike, who transforms herself into the legendary Madame Tussaud.
In 1761, a tiny, odd-looking girl named Marie is born in a village in Alsace. After the death of her parents, she is apprenticed to an eccentric wax sculptor and whisked off to the seamy streets of Paris, where they meet a domineering widow and her quiet, pale son. Together, they convert an abandoned monkey house into an exhibition hall for wax heads, and the spectacle becomes a sensation. As word of her artistic talent spreads, Marie is called to Versailles, where she tutors a princess and saves Marie Antoinette in childbirth. But outside the palace walls, Paris is roiling: The revolutionary mob is demanding heads, and . . . at the wax museum, heads are what they do.
Edward Carey's Little is a wonder – the incredible story of a 'blood-stained crumb of a girl' who went on to shape the world.


Langue anglaise | 464 pages | ISBN : 9781910709566
En vous inscrivant à Livraddict, vous pourrez partager vos chroniques de blog dans cette zone ! M'inscrire !