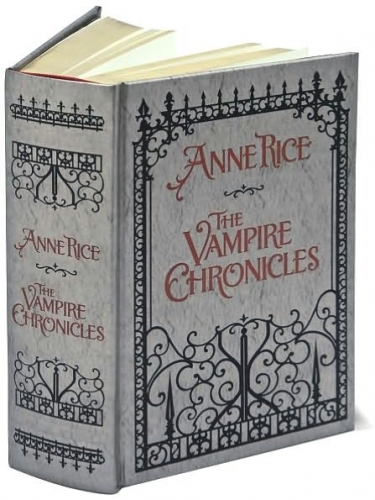 The hypnotic, deeply seductive novels of Anne Rice have captivated millions of fans around the world. It all began a quarter of a century ago with Interview with the Vampire. Now, in one chilling volume, here are the first three classic novels of The Vampire Chronicles.
In Interview with the Vampire, witness the confessions of a vampire. A novel of mesmerizing beauty and astonishing force, it is a story of danger and flight, love and loss, suspense and resolution, and the extraordinary power of the senses.
The Vampire Lestat focuses on Lestat, who was once an aristocrat from pre-revolutionary France, but now a rock star in the decadent 1980s. Lestat rushes through the centuries seeking to fathom the mystery of his existence. His is a mesmerizing story–passionate and thrilling.
In Queen of the Damned, Akasha, the Queen of the Damned, has risen from a six-thousand-year sleep to let loose the powers of the night. She has a marvelously devious plan to "save" mankind–in this vivid novel of the erotic, electrifying world of the undead.
The Vampire Chronicles is part of Barnes & Noble's series of quality leatherbound volumes. Each title in the series presents a classic work in an attractively designed edition bound in genuine bonded leather. These books make elegant additions to any home library.
Filtrer par type : | Filtrer par langue :


Langue française | 1296 pages


Langue anglaise | 1269 pages | Sortie : 30 Août 2009 | ISBN : 9780307291653
En vous inscrivant à Livraddict, vous pourrez partager vos chroniques de blog dans cette zone ! M'inscrire !