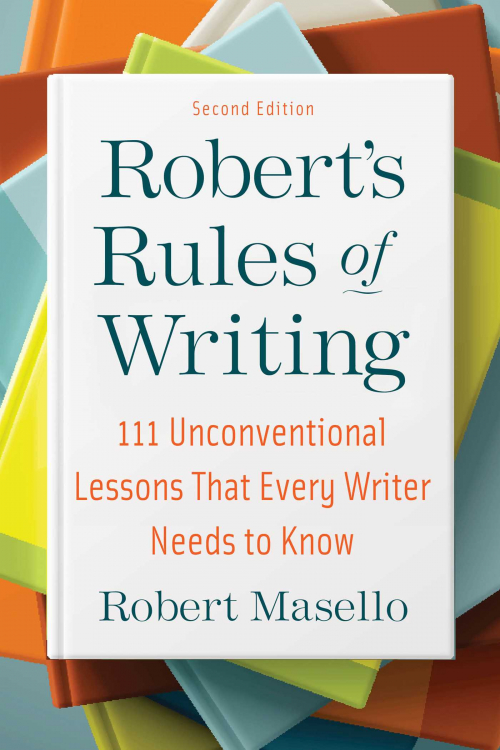 Prolific author Robert Masello guides working (or procrastinating) writers with advice, encouragement, and guidance.
Although there's no shortage of books on writing and publishing, there's none quite like Robert's Rules of Writing: 111 Unconventional Lessons that Every Writer Needs to Know. Distilled from his many years of experience as an award-winning journalist, TV writer, and the author of over twenty books, published by mainstream houses and translated into nineteen languages to date, Robert Masello addresses all the issues that confront, and all the problems that beset, writers of all stripes.
Whether it's a novel or a screenplay, a memoir or a newspaper piece that they're working on, writers have to find their own way to expressing themselves clearly, persuasively, and entertainingly on the page. They have to find their own voice, their own story, their own thoughts and opinions, and then connect to their readers. Robert's Rules of Writing offers hard-won advice, encouragement, and guidance along the way, but in an irreverent and often provocative manner, overturning a lot of the traditional axioms and providing the kind of inside information that only comes from a lifetime of writing—which Masello has.
In well over a hundred short takes, he takes his readers over hurdles, around obstacles, and through the seemingly insurmountable barriers to completion and ultimately publication of their work. It's a lively, thought-provoking, and often downright funny, addition to any working (or procrastinating) writer's shelf.


Langue anglaise | 240 pages | Sortie : 21 septembre 2021 | ISBN : 9781621537830
En vous inscrivant à Livraddict, vous pourrez partager vos chroniques de blog dans cette zone ! M'inscrire !