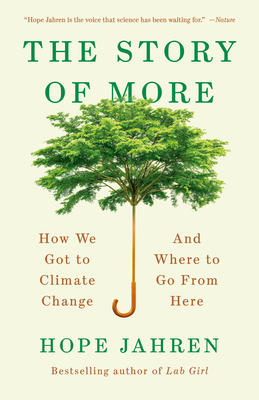 From the bestselling author of Lab Girl comes a slim, urgent missive on the defining issue of our time: here is Hope Jahren on climate change, our timeless pursuit of more, and how the same human ambition that got us here can also be our salvation. A Vintage Original.
Hope Jahren is an award-winning geobiologist, a brilliant writer, and one of the seven billion people with whom we share this earth. The Story of More is her impassioned open letter to humanity as we stand at the crossroads of survival and extinction. Jahren celebrates the long history of our enterprising spirit--which has tamed wild crops, cured diseases, and sent us to the moon--but also shows how that spirit has created excesses that are quickly warming our planet to dangerous levels. In short, highly readable chapters, she takes us through the science behind the key inventions--from electric power to large-scale farming and automobiles--that, even as they help us, release untenable amounts of carbon dioxide. She explains the current and projected consequences of greenhouse gases--from superstorms to rising sea levels--and the science-based tools that could help us fight back. At once an explainer on the mechanisms of warming and a capsule history of human development, The Story of More illuminates the link between our consumption habits and our endangered earth, showing us how we can use less and share more. It is the essential pocket primer on climate change that will leave an indelible impact on everyone who reads it.
Filtrer par type :


Langue anglaise | 224 pages | Sortie : 3 mars 2020 | ISBN : 9780525563389


Langue anglaise | 173 pages | ISBN : 9780708898987
En vous inscrivant à Livraddict, vous pourrez partager vos chroniques de blog dans cette zone ! M'inscrire !