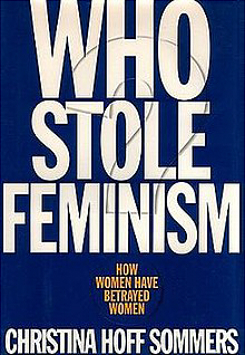 Philosophy professor Christina Sommers has exposed a disturbing development: how a group of zealots, claiming to speak for all women, are promoting a dangerous new agenda that threatens our most cherished ideals and sets women against men in all spheres of life. In case after case, Sommers shows how these extremists have propped up their arguments with highly questionable but well-funded research, presenting inflammatory and often inaccurate information and stifling any semblance of free and open scrutiny. Trumpeted as orthodoxy, the resulting "findings" on everything from rape to domestic abuse to economic bias to the supposed crisis in girls' self-esteem perpetuate a view of women as victims of the "patriarchy". Moreover, these arguments and the supposed facts on which they are based have had enormous influence beyond the academy, where they have shaken the foundations of our educational, scientific, and legal institutions and have fostered resentment and alienation in our private lives. Despite its current dominance, Sommers maintains, such a breed of feminism is at odds with the real aspirations and values of most American women and undermines the cause of true equality. Who Stole Feminism? is a call to arms that will enrage or inspire, but cannot be ignored.
Titre original : Who Stole Feminism? (1994)


Langue anglaise | 320 pages | ISBN : 0671794248
En vous inscrivant à Livraddict, vous pourrez partager vos chroniques de blog dans cette zone ! M'inscrire !