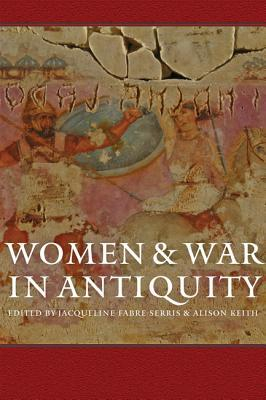 The martial virtues--courage, loyalty, cunning, and strength--were central to male identity in the ancient world, and antique literature is replete with depictions of men cultivating and exercising these virtues on the battlefield. In Women and War in Antiquity, sixteen scholars reexamine classical sources to uncover the complex but hitherto unexplored relationship between women and war in ancient Greece and Rome. They reveal that women played a much more active role in battle than previously assumed, embodying martial virtues in both real and mythological combat.
The essays in the collection, taken from the first meeting of the European Research Network on Gender Studies in Antiquity, approach the topic from philological, historical, and material culture perspectives. The contributors examine discussions of women and war in works that span the ancient canon, from Homer's epics and the major tragedies in Greece to Seneca's stoic writings in first-century Rome. They consider a vast panorama of scenes in which women are portrayed as spectators, critics, victims, causes, and beneficiaries of war.
This deft volume, which ultimately challenges the conventional scholarly opposition of standards of masculinity and femininity, will appeal to scholars and students of the classical world, European warfare, and gender studies.


Langue anglaise | 360 pages | ISBN : 9781421417622
En vous inscrivant à Livraddict, vous pourrez partager vos chroniques de blog dans cette zone ! M'inscrire !