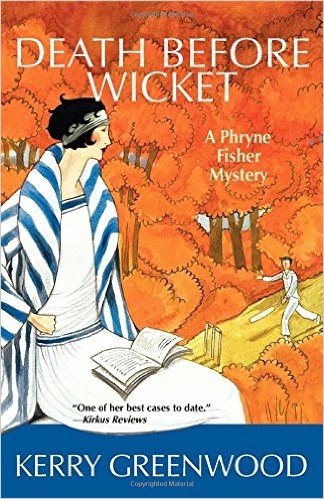 Phryne Fisher is on holiday. She means to take the train to Sydney (where the harbour bridge is being built), go to a few cricket matches, dine with the Chancellor of the university and perhaps go to the Arts Ball with that celebrated young modernist, Chas Nutall. She has the costume of a lifetime and she's not afraid to use it. When she arrives there, however, her maid Dot finds that her extremely respectable married sister Joan has vanished, leaving her small children to the neglectful care of a resentful husband. She rescues the children, but what has become of Joan, who would never leave her babies? Surely she hasn't run away with a lover, as gossip suggests? Phryne must trawl the nightclubs and bloodtubs of Darlinghurst to find out. And while Phryne is visiting the university, two very pretty young men, Joss and Clarence, ask her to find out who has broken into the Dean's safe and stolen a number of things, including the Dean's wife's garnets and an irreplaceable illuminated book called the Hours of Juana the Mad. An innocent student has been blamed. So there is no rest for the wicked, and Phryne girds up her loins, loads her pearl handled .32 Beretta, and sallies forth to find mayhem, murder, black magic, and perhaps a really good cocktail at the Hotel Australia.
Titre original : Death Before Wicket (1999)
En vous inscrivant à Livraddict, vous pourrez partager vos chroniques de blog dans cette zone ! M'inscrire !