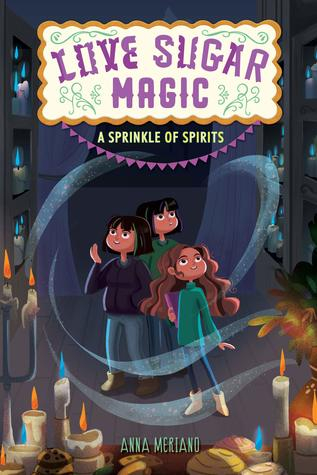 Leonora Logroño has finally been introduced to her family's bakery bruja magic—but that doesn't mean everything is all sugar and spice. Her special power hasn't shown up yet, her family still won't let her perform her own spells, and they now act rude every time Caroline comes by to help Leo with her magic training.
She knows that the family magic should be kept secret, but Caroline is her best friend, and she's been feeling lonely ever since her mom passed away. Why should Leo have to choose between being a good bruja and a good friend?
In the midst of her confusion, Leo wakes up one morning to a startling sight: her dead grandmother, standing in her room, looking as alive as she ever was. Both Leo and her abuela realize this might mean trouble—especially once they discover that Abuela isn't the only person in town who has been pulled back to life from the other side.
Spirits are popping up all over town, causing all sorts of trouble! Is this Leo's fault? And can she reverse the spell before it's too late?
Titre original : Love, Sugar, Magic, book 2: A sprinkle of spirits (2019)


Langue anglaise | 301 pages | Sortie : 5 Février 2019 | ISBN : 9780062498496
En vous inscrivant à Livraddict, vous pourrez partager vos chroniques de blog dans cette zone ! M'inscrire !