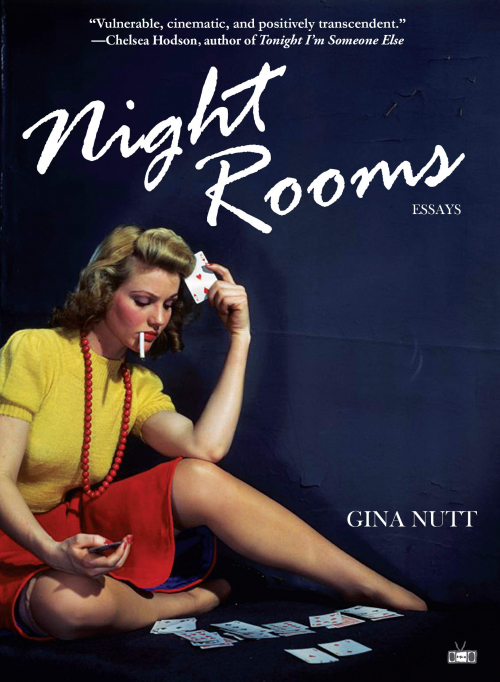 "A Most Anticipated Book of 2021" —Refinery29, Thrillist, Book Riot, Lit Hub
"Gina Nutt's Night Rooms is a startling collection of 18 essays ruminating on life experiences, cultural tropes and horror films, examining questions of gender, fear and grief. Fragmented in form, but firmly interconnected, these essays refuse to look away. Nutt's prose is lyrical, provocative, intimate and intelligent... Together, these pieces form an experience that is sensory, intellectual and emotional, illuminating difficult and even uncomfortable truths."
—Julia Kastner, Shelf Awareness
"In a horror movie, an infected character may hide a bite or rash, an urge, an unwellness. She might withdraw or act out, or behave as if nothing is the matter, nothing has happened. Any course of action opposite saying how she feels suggests suffering privately is preferable to the anticipated betrayal of being cast out."
Night Rooms is a poetic, intimate collection of personal essays that weaves together fragmented images from horror films and cultural tropes to meditate on anxiety and depression, suicide, body image, identity, grief, and survival.
Whether competing in shopping mall beauty pageants, reflecting on childhood monsters and ballet lessons, or recounting dark cultural ephemera while facing grief and authenticity in the digital age, Gina Nutt's shifting style echoes the sub-genres that Night Rooms highlights—spirit-haunted slow burns, possession tales, slashers, and revenge films with a feminist bent.
Refracting life through the lens of horror films, Night Rooms masterfully leaps between reality and movies, past and present—because the "final girl's" story is ultimately a survival story told another way.
Titre original : Night Rooms: Essays (2021)


Langue anglaise | 173 pages | Sortie : 23 mars 2021 | ISBN : 9781953387004
En vous inscrivant à Livraddict, vous pourrez partager vos chroniques de blog dans cette zone ! M'inscrire !