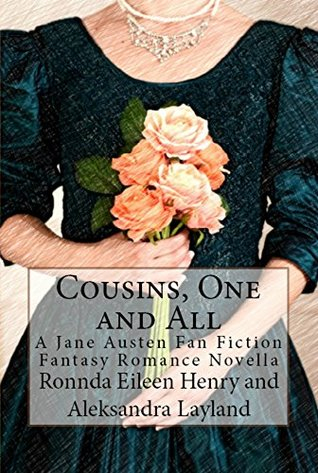 "Cousins, One and All" is a Jane Austen fan fiction novella based on characters in "Pride and Prejudice" but with an alternate story line focused on the second generation, and which crosses over to fantasy worlds from Ronnda Eileen Henry's romance novella "Love in Two Acts" and Aleksandra Layland's epic fantasy Windflower Saga trilogy. The sons of Mr. Wickham and Col Fitzwilliam join the daughters of Mr. Darcy, Mr. Bingley, and Mr. Collins for a two-week holiday in the Lakes district of northern England. During the second week, two of them (Ben Wickham and Lottie Darcy) disappear for three days. When they return, they explain their absence as due to a fall into a ravine while they were out hiking and being picked up by a gypsy and taken to his camp some distance away to recover. That is as far from the truth as it could be, but the truth is utterly unbelievable... that is, except to logical, sensible Cat Collins who is in love with Ben but has never told him. The five cousins will never forget the year they went on holiday together, and if you're a Jane Austen fan, neither will you.


Langue française | 78 pages | Format : PRC/MOBI | ISBN : B078Z7RPM4
En vous inscrivant à Livraddict, vous pourrez partager vos chroniques de blog dans cette zone ! M'inscrire !