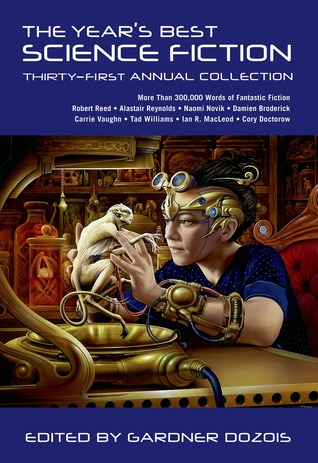 FIFTEEN-TIME WINNER OF THE LOCUS AWARD FOR YEAR'S BEST ANTHOLOGY
The thirty-two stories in this collection imaginatively take us far across the universe, into the very core of our beings, to the realm of the gods, and the moment just after now. Included here are the works of masters of the form and of bright new talents, including: Neal Asher, Stephen Baxter, Damien Broderick, Karl Bunker, Aliette de Bodard, Brendan DuBois, Greg Egan, Alexander Jablokov, James Patrick Kelly, Jake Kerr, Nancy Kress, Jay Lake, Ken Liu, Ian R. MacLeod, Paul J. McAuley, Ian McDonald, Sandra McDonald, Sean McMullen, Sunny Moraine, Val Nolan, Robert Reed, Alastair Reynolds, Geoff Ryman, Melissa Scott, Martin L. Shoemaker, Allen M. Steele, Michael Swanwick, Lavie Tidhar, and Carrie Vaughn.
Supplementing the stories are the editor's insightful summation of the year's events and a lengthy list of honorable mentions, making this book both a valuable resource and the single best place in the universe to find stories that stir the imagination, and the heart.
Content:
"The Discovered Country" by Ian R. MacLeod
"The Book Seller" by Lavie Tidhar
"Pathways" by Nancy Kress
"A Heap of Broken Images" by Sunny Moraine
"Rock of Ages" by Jay Lake
"Rosary and Goldenstar" by Geoff Ryman
"Gray Wings" by Karl Bunker
"The Best We Can" by Carrie Vaughn
"Transitional Forms" by Paul McAuley
"Precious Mental" by Robert Reed
"Martian Blood" by Allen M. Steele
"Zero For Conduct" by Greg Egan
"The Waiting Stars" by Aliette de Bodard
"A Map of Mercury" by Alastair Reynolds
"One" by Nancy Kress
"Murder on the Aldrin Express" by Martin L. Shoemaker
"Biographical Fragments of the Life of Julian Prince" by Jake Kerr
"The Plague" by Ken Liu
"Fleet" by Sandra McDonald
"The She-Wolf's Hidden Grin" by Michael Swanwick
"Bad Day on Boscobel" by Alexander Jablokov
"The Irish Astronaut" by Val Nolan
"The Other Gun" by Neal Asher
"Only Human" by Lavie Tidhar
"Entangled" by Ian R. MacLeod
"Earth 1? by Stephen Baxter
"Technarion" by Sean McMullen
"Finders" by Melissa Scott
"The Queen of Night's Aria" by Ian McDonald
"Hard Stars" by Brendan DuBois
"The Promise of Space" by James Patrick Kelly
"Quicken" by Damien Broderick


Langue anglaise | 705 pages | ISBN : 9781250046215
En vous inscrivant à Livraddict, vous pourrez partager vos chroniques de blog dans cette zone ! M'inscrire !