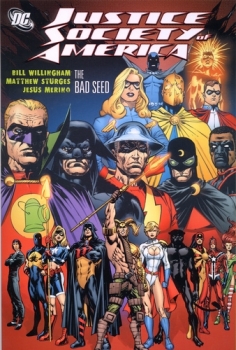 The world's first and foremost super-team is under assault from within and without !
Someone has put a price on the team's heads, and they're coming after the JSA with an overwhelming force of super villains. Now both the veterans and the new generation that they've made it their mission to train must band together to stop this mastermind before they've torn apart!
But a more insidious threat lurks within the brownstone the team calls home. What begins with a mysterious attack on Obsidian, the hero who provides security for their headquarters, soon reveals a far more threat that seems to come from the very ranks of the team.
Even if the Justice Society survives these attacks, is the team itself history ?
En vous inscrivant à Livraddict, vous pourrez partager vos chroniques de blog dans cette zone ! M'inscrire !