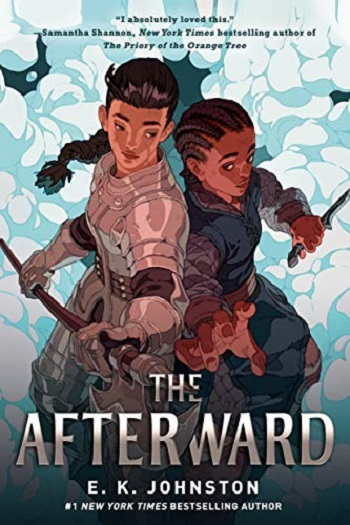 Classic high fantasy with a twist from the acclaimed and bestselling author of Star Wars: Ahsoka and Exit, Pursued by a Bear. Johnston's fans and fantasy devotees will find delightful and inspiration in a brilliant cast of lady knights dealing with fame and difficult choices in the aftermath of a successful quest.
In the year since Sir Erris Quicksword and her fellow lady knights used the mysterious Godsgem to free the king from the Old God's spell, the people of Cadrium have enjoyed peace and prosperity and the brave lady knights who completed the quest have basked in the glow of their new fame as heroes of the realm--all except the youngest two. Olsa Rhetsdaughter has discovered that the price of fame is her ability to ply her trade as a thief. She's much too recognizable to make her living picking pockets now, and regular meals on the quest finally jumpstarted puberty so she can no longer pass for a boy when she needs to. And for Apprentice Knight Kalanthe Ironheart, the end of the quest has meant the beginning of her search for a husband--a match that first and foremost must bring with it a bride-price sufficient to pay the debt she took on to train as a knight. To make matters worse, in the year they spent together on the quest, the pickpocket and the knight-in-training fell in love. Meanwhile, the mages entrusted with keeping the Godsgem from falling into the wrong hands have found the task less simple than they imagined, and Cadrium's golden age may be short-lived if her band of heroes doesn't act quickly and save the realm once again.
Combining Johnston's deep affection for the classic quest fantasy of Tolkien, David Eddings, and Tamora Pierce and her unwavering commitment to stories centered on women and LGBTQ characters, The Afterward is a thoroughly entertaining standalone fantasy with a remarkably fresh cast of characters and a delightfully optimistic worldview.
Titre original : The Afterward
Filtrer par type :


Langue anglaise | 348 pages | Format : AZW | Sortie : 19 février 2019 | ISBN : B07D6DLFG4


Langue anglaise | 352 pages | Format : ePub | ISBN : B07D6DLFG4
En vous inscrivant à Livraddict, vous pourrez partager vos chroniques de blog dans cette zone ! M'inscrire !