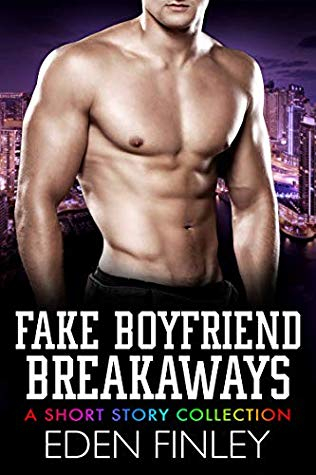 Breakaways is a collection of short stories from Eden Finley's Fake Boyfriend universe. They all feature side characters from the series but do not contain fake boyfriend tropes.
Rebound (Fake Boyfriend 2.5)
Aron and Wyatt have been best friends since college and are both rebounding from bad break-ups. One night of drunken sex makes them question their whole friendship and what they've had right in front of them all along.
Best read after Trick Play in the Fake Boyfriend universe.
It's Complicated (Fake Boyfriend 3.5)
Max has been in love with his childhood best friend, Ash, for years. The reason he has kept it a secret is because Ash also happens to be Max's brother's ex-boyfriend. Complicated doesn't begin to explain their relationship.
Best read after Deke in the Fake Boyfriend universe.
Winning You (Fake Boyfriend 4.5)
(Previously published in Heart2Heart volume 2. This story has been extended from the original and re-edited.)
Marty and Luce win a blind date through a charity raffle. Marty is young and vibrant. Luce is older and a little bit bitter. In one night, they manage to change the course of each other's lives.
This is a prequel of Hat Trick in the Fake Boyfriend universe.


Langue anglaise | 306 pages | Sortie : 26 septembre 2019 | ISBN : 9781694429353
En vous inscrivant à Livraddict, vous pourrez partager vos chroniques de blog dans cette zone ! M'inscrire !