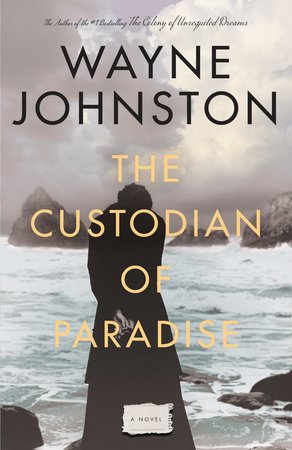 The Custodian of Paradise is a riveting narrative with Fielding at its heart. Fielding—advancing on middle age, hobbled by disfigurement and personal demons—is headed for Loreburn, a deserted island off the south coast of Newfoundland. She has borne a lifetime of estrangement and heartbreak by setting herself apart from the rest of St. John's society. By cultivating her isolation, she's been able to write, both in her journals and for the Telegram. By skirting Prohibition laws, she's also been able to dull the pain of her early years. Alone she remains—except for the mysterious stranger she calls her Provider.
As Fielding revisits her articles, letters and journals, we are swept up in her tumultuous life's journey and the mystery of this Provider's identity. From the downtrodden streets of New York's immigrant neighbourhoods to the sanatorium where she fights TB, from the remote workers' shacks of the Bonavista rail line to the underbelly of wartime St. John's, the Provider seems to have devoted himself to charting Fielding's every move and to sending her maddeningly cryptic letters about his role in her life. Yet he has also protected her at times. While she fears that he may have followed her to Loreburn, she fears even more that he may not be able to find her there.
Titre original : The custodian of Paradise (2007)


Langue française | 528 pages | Sortie : 19 juin 2007 | ISBN : 9780676978162
En vous inscrivant à Livraddict, vous pourrez partager vos chroniques de blog dans cette zone ! M'inscrire !