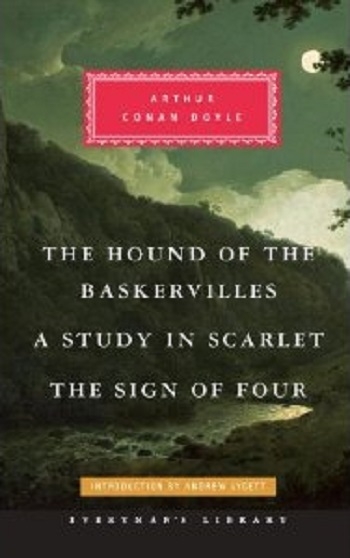 A Study in Scarlet (1887) was the young Sherlock Holmes's first outing in print. Dr Watson is fascinated by the singular talents of his new flatmate and before long sees them come into play as he unravels a murder mystery which ranges from south London suburbia to Salt Lake City. In The Sign of Four Doyle fleshes out his hero - a moody, decadent cocaine addict stirred from lethargy only by the stimulus of an exotic case involving treasure stolen from an Indian rajah, and ending with a thrilling chase down the river Thames in a police barge. Transplanted from Baker Street to the Devon countryside, Holmes and Watson (service revolver duly packed) find themselves pitted against the supernatural in The Hound of the Baskervilles where an ancient family curse lends an extra frisson of horror to the unexplained death of an elderly baronet who wanders too close to the desolate moor by night.
Much as he sometimes wished to, Sir Arthur Conan Doyle was never able to escape his public's insatiable appetite for more and more of Sherlock Holmes. A century on, these early novels, gripping and impeccably plotted, have lost nothing of their power to intrigue and entertain.
Titre original : The Hound of the Baskervilles / A Study in Scarlet / The Sign of Four (2014)
Filtrer par type :


Langue anglaise | 424 pages | ISBN : 9781841593630


Langue anglaise | 189 pages | ISBN : 9780141199177
En vous inscrivant à Livraddict, vous pourrez partager vos chroniques de blog dans cette zone ! M'inscrire !