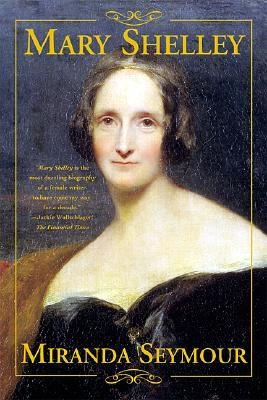 Gracefully sweeping through the dramatic life of the woman behind history's most legendary monster, Miranda Seymour unbuttons a world of brilliant literary figures in Mary Shelley and re-creates the imaginative time in which Frankenstein was born. The itinerant life of Mary Shelley began when she escaped the continent at age sixteen with her husband, the poet Percy Bysshe Shelley, her reputation in ruins. With Mary's stepsister Claire Clairmont in tow, they traveled from England to Switzerland to stifling Italy in the summer. In 1816 they rented a villa near Lord Byron's on Lake Geneva where, in a famous night of eerie thunderstorms, they told ghost stories and tales of horror. From that night emerged the idea of Frankenstein, a monster who has haunted imaginations for nearly two hundred years. His creator was an eighteen-year-old girl. But tragedy shadowed her; she came to lose three of her four children in infancy and when she was twenty-four, Shelley drowned off the coast of Italy. After his death she moved back to England with her only remaining child, Percy. Though Frankenstein later became a success, the world she returned to was bleak and impoverished, and she was reduced to hack writing to make ends meet. The Mary we meet here, brilliantly brought to life by Seymour from previously unexplored sources, is flawed, brave, generous, and impetuous. As Jackie Wullschlager of The Financial Times (London) said, "Mary Shelley is the most dazzling biography of a female writer to have come my way for a decade."
Filtrer par type :


Langue anglaise | 672 pages


Langue anglaise | 655 pages | Sortie : 00 2000 | ISBN : 0719557119
En vous inscrivant à Livraddict, vous pourrez partager vos chroniques de blog dans cette zone ! M'inscrire !