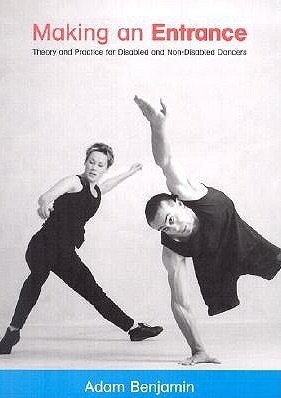 Making an Entrance is the first ever practical introduction to teaching dance with disabled and non disabled students. This clearly written, thought provoking and hugely enjoyable manual is essential reading whether you're just starting out or are already active in the field.
Taking improvisation as his focus and as the starting point of choreographic exploration, Adam Benjamin asks what it has to offer as an art form and how it can be better used to meet the changing needs of dance education.
In the theoretical section Benjamin explores the history of a disintegrated dance practice, placing it within the wider context of cultural and political movements. He questions what is meant today when we talk about 'inclusive' or 'integrated dance' and what we might expect of it.
The book includes over 50 exercises and improvisations designed to stimulate and challenge students at all levels of dance. Benjamin also includes useful hints on the practicalities of setting up workshops covering issues as diverse a class size, the safety aspects of wheelchairs and the accessibility of dance spaces.
Titre original : Making an Entrance - Theory and Practice for Disabled and Non-Disabled Dancers (2002)
En vous inscrivant à Livraddict, vous pourrez partager vos chroniques de blog dans cette zone ! M'inscrire !