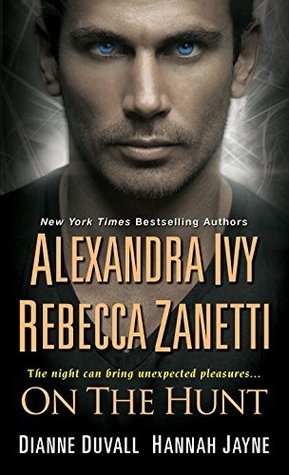 Four of today's most intriguing paranormal authors entice readers deep into the shadows, where vampires, immortals, and other supernatural creatures heat up the night...
ON THE HUNT by Alexandra Ivy
Mika Tanner has loved Bailey Morrell, a beautiful Healer, since childhood. But his duty as a Sentinel, a supernatural guardian of an ancient race, clashed with her rebellious spirit. Now a dangerous new anarchist group not only threatens life as they know it—but any chance of their being together again...
SCORPIUS RISING by Rebecca Zanetti
While searching for a meteorite, Nora Mendina is arrested by her sheriff ex-husband—who's only gotten hotter than the Nevada desert since she last saw him. When the meteorite breaks open, the few survivors gain extraordinary powers, unleashing a crazed super genius killer. Can Nora and her ex stop the murders…while igniting a new love affair?
PHANTOM EMBRACE by Dianne Duvall
Immortal Yuri Sokolov was born with the ability to see spirits, yet he's never seen one as lovely as Cat Seddon, the woman who haunts his home and his dreams. But amid their star-crossed love, a new danger may have Yuri facing a different kind of eternity.
STAKE OUT by Hannah Jayne
Vampire fashion designer Nina LaShay has a lot on her plate—just two days until fashion week and the model who was flirting with her photographer boyfriend is now a corpse in her studio. But when dead turns into undead and dangerous, Nina must find out who's responsible…before the beautiful baby vamp takes too many bites out of the Big Apple.
Titre original : On the Hunt (2015)
En vous inscrivant à Livraddict, vous pourrez partager vos chroniques de blog dans cette zone ! M'inscrire !